Product, Price, Place, and Promotion have long been the accepted ingredients integral to the marketing mix. This combination has produced effective marketing results for what seems like an eternity. However, from our vantage point, the 4 P's have always felt, well, incomplete. There seemed to be an essential element that the 4 P's fail to capture. Something more important than any one the 4 P's alone. That missing element is what we call a fifth "P" of marketing – Purpose.
Purpose is not merely a bolt-on addition to the 4 P's. Rather, it underlies them and acts as the sturdy foundation supporting the four walls of a house. Purpose guides strategy by igniting the why, where, and how related to decisions and organizational strategy. Purpose is the backbone that ties the 4 P's together and is more important today than ever. We'll discuss why Purpose belongs as the 5th P of the marketing mix and the important role purpose can play as a driver of overall business strategy. If your business hasn't embraced Purpose, there has never been a better time.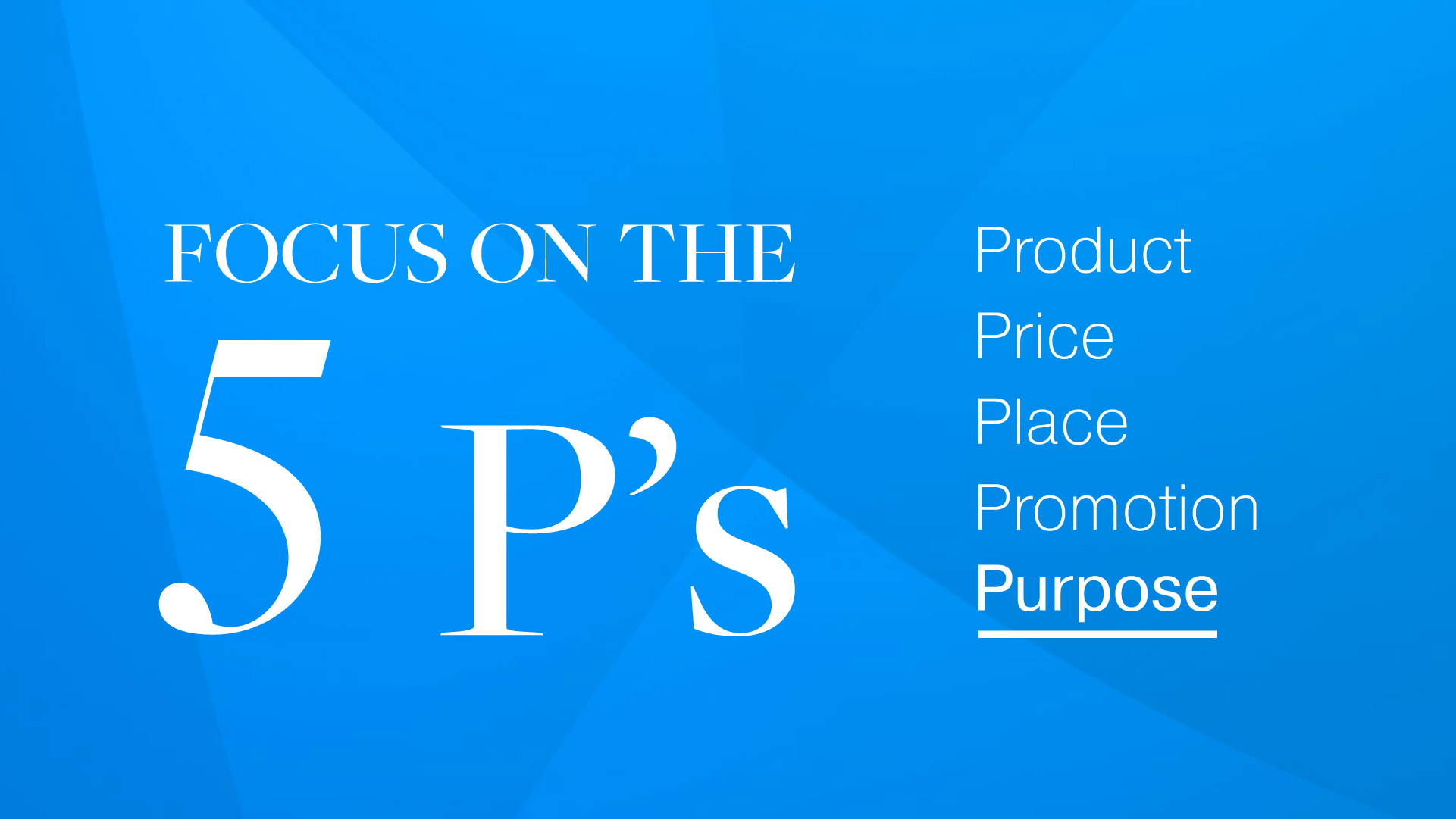 Purpose Generates Emotional Value.
Most people want to believe that their life and their jobs have meaning. In fact, a Harvard Business Review article found that employees who find their work meaningful are 69% less likely to leave their positions within the next 6 months and have longer tenures when compared to employees who lack meaning in their roles. Purpose has proven itself as an effective conduit to the creation of emotional value – not only in office place culture, but with customers as well.
Embedding purpose starts with asking "why" the business exists, "what" it is doing to improve society and the planet, and "how" it is executing to create real progress. Purpose can be manifested in many ways – from being part of the mission to determining which products and services you create and how they are delivered. Efforts related to sustainability, CSR, and environmental, social and governance (ESG) support Purpose, however, they are not replacements for it. Rather, these activities align around a strategy that is supported and empowered by Purpose. When Purpose is part of the marketing mix, a brand can serve as a platform for advocating on behalf of customers and a wider spectrum of stakeholders while confronting planetary/societal issues at large. Your purpose may also influence how product, price, place, and promotion decisions are made.
Purpose is an Expectation.
For over a decade, we've sought to embed Purpose as an integrated component of the marketing mix at Domoto. Back when we started, this approach was far from commonplace. Today, however, things have changed. Turn on any television and you'll see more and more brands eagerly willing to highlight the most sustainable and socially responsible attributes of their brand within their marketing messaging. This type of content is now front and center and is not just reserved for CSR, sustainability, or ESG reporting. Nearly everywhere you turn, environmentally or socially responsible messaging is at the forefront across media touchpoints. We could not be more delighted. The drivers of this shift are not solely altruistic, but in reaction to consumer sentiment. According to findings by Accenture, as noted in a recent Forbes article, 62% of consumers want companies to stand up for issues they are passionate about while 66% rank transparency amongst a company's most attractive qualities.
For brands who have not leveraged Purpose as part of the marketing mix, the best time to do so is now. A strong Purpose now acts as a source of premium for many brands. This can impact pricing as well as the overall form and function of products which, in turn, can lead to a greater competitive advantage, minimized risk, and greater brand value. It can help to determine where a product is sold relative to its target market and how promotion of sustainable attributes is communicated as part of the product value proposition. Customers are expecting organizations to cast their nets more broadly to consider the needs of stakeholders, not just shareholders.
Let's use Patagonia as an example. Patagonia has a storied history around producing high quality apparel and products suited for the demands of the great outdoors. Patagonia has also become well known for their advocacy and activism primarily around environmental issues such as the protection of Bears Ears National Monument as well as the protection of rivers and the production of content such as "Public Trust" – a film detailing the fight for America's public lands. All of these efforts, of course, support the company's purpose-driven mission: "Patagonia is in business to save our home planet." This commitment has also been represented through Patagonia's commitment to use recycled materials, organic cotton, and to operate their take back and repair program. Patagonia is also a fellow B-Corporation, the first company in California to achieve certification, and serves as a prime example of how strength of purpose permeates through the 4 P's and compels consumers (the author included) to purchase based not only on quality of product but also on alignment of values.
Your Purpose Is Your Brand.
A brand is more than a logo. Brand includes the company's ethos, beliefs, culture, and approach to engaging with stakeholders across the marketing ecosystem. Our ability to understand a brand's Purpose will only grow more important as the relationship between consumers and brands becomes increasingly tied to personal values. Many of these personal values may be shaped by macro-trends including climate change, digitization, equal opportunity, etc. Further, Purpose acting as a part of company DNA will mean that strategy, reputation, differentiation, and marketability will be further encapsulated within brand value and the customer experience. Why is this important? According to SASB, only 17% of assets in the S&P 500 were intangible in 1975 as opposed to 84% in 2015. Intangible assets include brand value, goodwill, intellectual property, as well as human capital and natural capital. The value of these assets can be grown or discounted based on how well a company executes on its purpose – identifying and capitalizing on opportunity while mitigating risks with steep financial impacts.
The pandemic has been a wakeup call for many industries and consumers alike. It has deemed certain types of work "essential" and awakened an awareness of purpose in industries we may have been taking for granted. The pandemic has made us rethink where we work, who we work for, and whether financial motive alone is the strongest galvanizing force for our work when we are no longer privy to workplace culture and face-to-face interactions as we move into an era where zoom meetings have normalized. Negative publicity related to bias, unsafe work conditions, discrimination, fines, the careless words of a CEO etc. causes lasting damage to a brand's reputations while igniting abandonment from customers. All of these factors give rise to the need for deeper investigation into purpose and how purpose can be used as a catalyst to produce stronger and more resilient companies and brands. The most successful brands will be those that capably market their purpose with actions, metrics, and stories that demonstrate that they are walking the talk. Although this is nothing new, this is the start of a new set of expectations and a new way of thinking given what we've been through. The future of marketing is changing and it begins with the fifth P.