Domoto's relationship with Trimble began with our support of company events, including the Trimble Dimensions user conference and investor relations presentations. In 2016 and 2017, Domoto worked to convey the company's dedication to purpose while we designed Trimble's annual reports. For the RCC program's public introduction, Domoto was honored to provide sustainability message consulting as well as design services in communicating the program's launch.
Trimble is a company driven by purpose and dedicated to "Transforming the Way the World Works." Domoto's hand in representing Trimble's Responsible Corporate Citizenship (RCC) program sought to communicate the company's highest mission, underscoring Trimble's commitments as a company, an employer, and a contributor to society.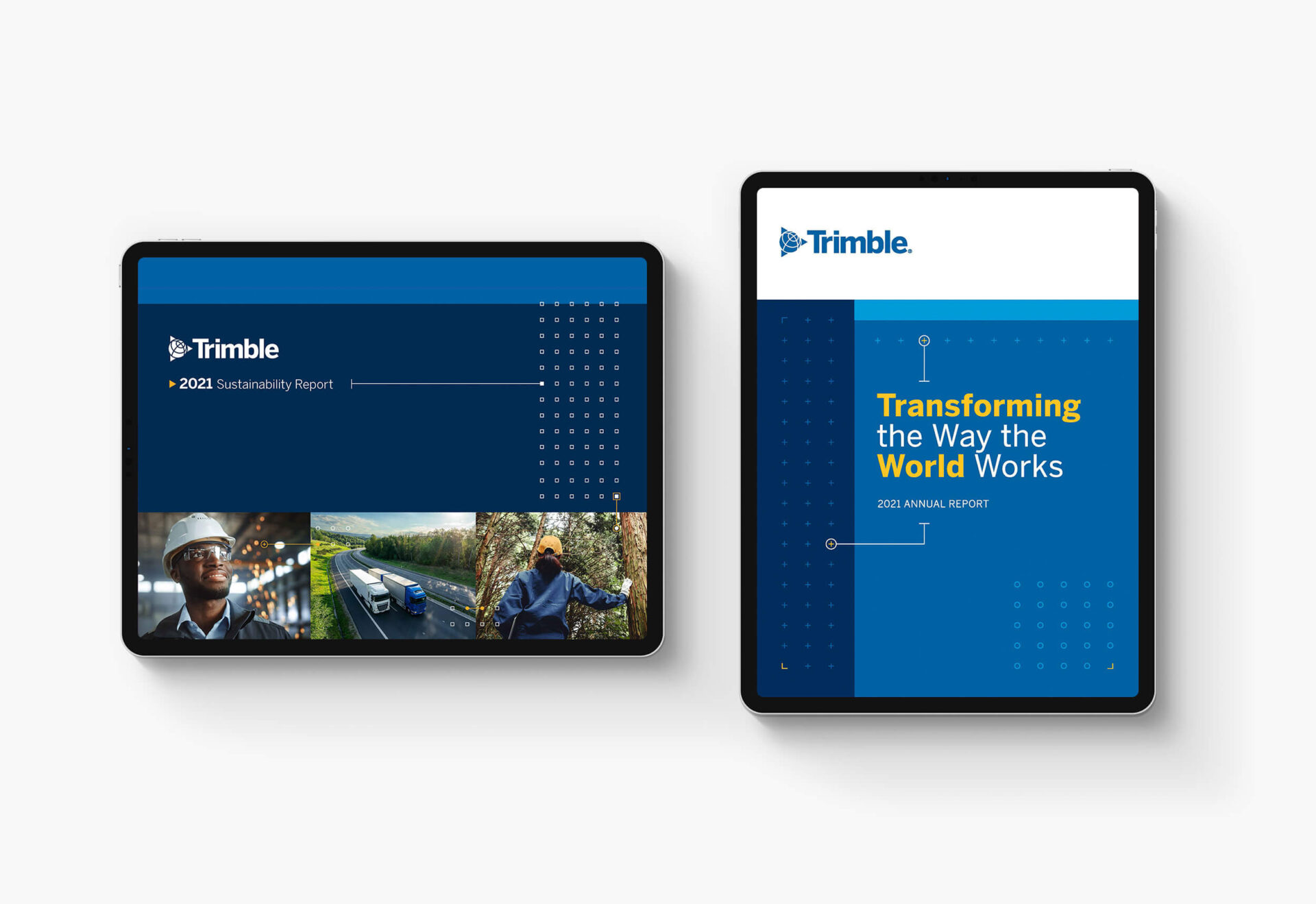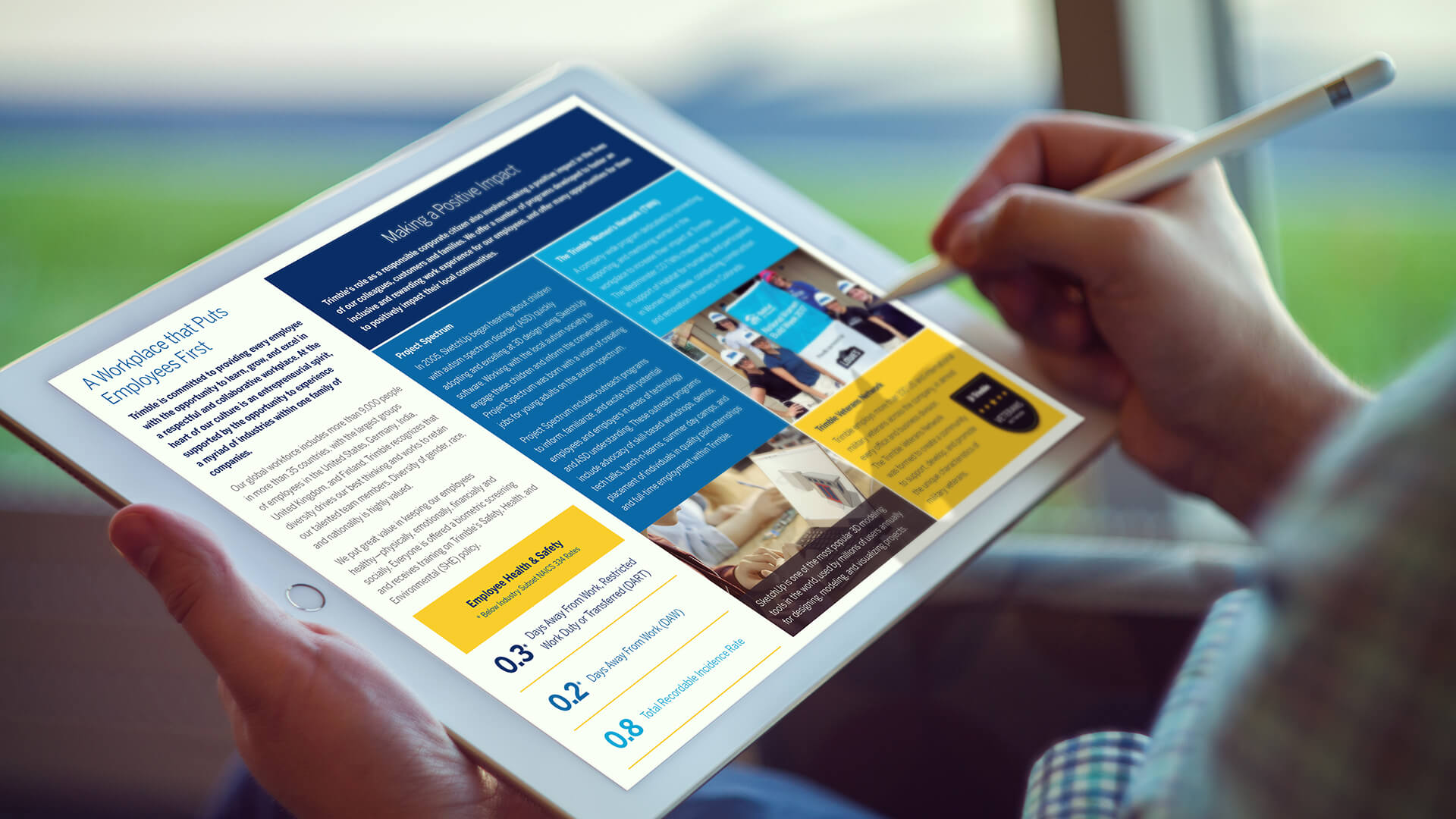 ESG and DEI Go Hand-In-Hand
To assist the organization with its branding, communication, and reporting, Domoto prepared several reports that address 2021 activities for their Annual and Proxy Reports, which included an inaugural Diversity, Equity, and Inclusion (DEI) Report, and the Sustainability Report. Sustainability reports are always aligned to the Sustainability Accounting Standards Board (SASB) reporting requirements, as well as, the United Nations Sustainable Development Goals (UN SDGs). This collaboration has significantly evolved since the first joint projects in 2016, which included assistance with the Trimble Dimensions conference, and the work on Trimble's Responsible Corporate Citizenship (RCC) report.
We are proud to help advance the Environmental, Social, and Governance (ESG) work of Trimble as the company continues to develop its sustainability initiatives and move closer to a net-zero
future by 2030.
Learn more about our ESG and DEI strategic services by connecting with us today.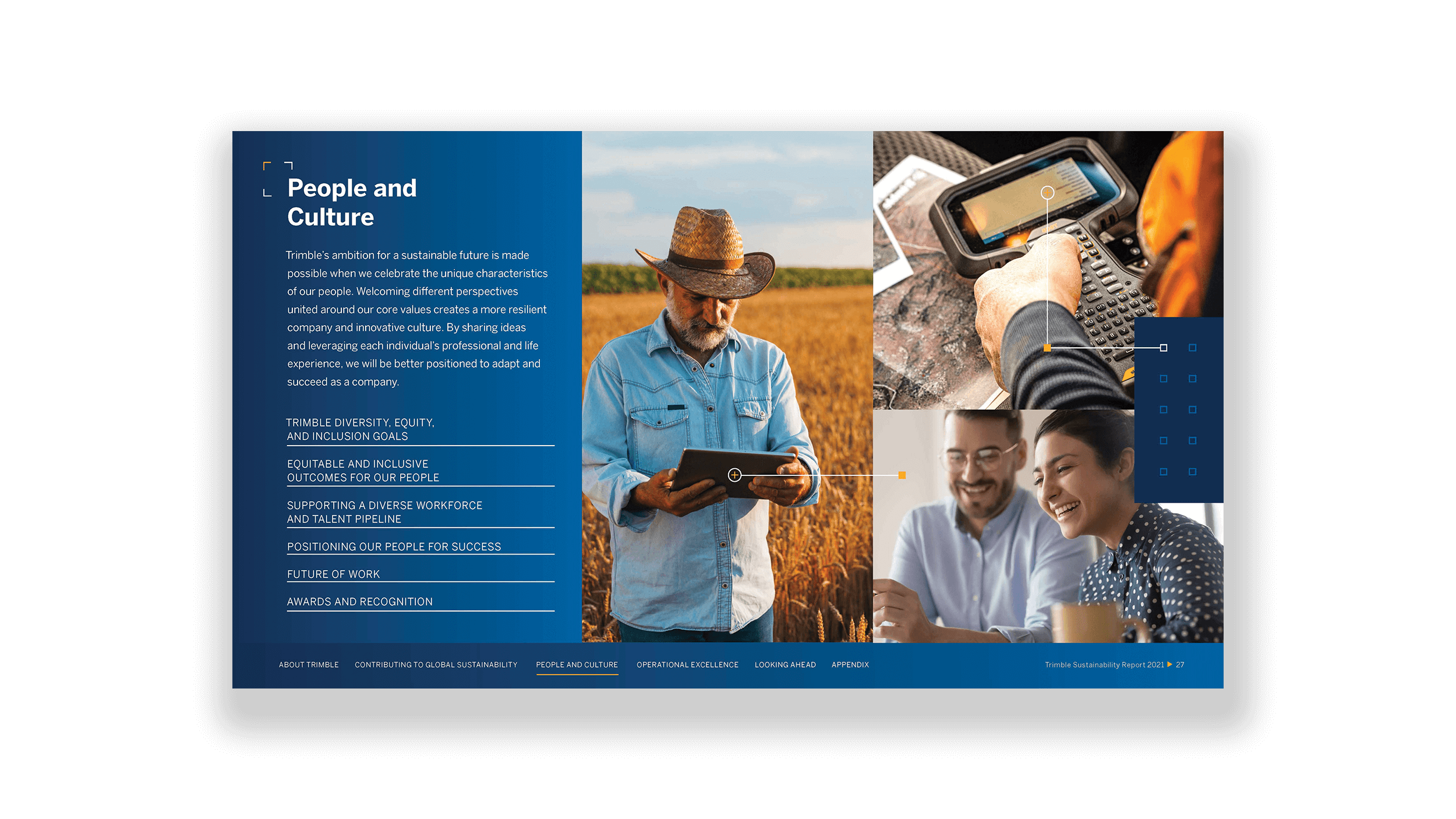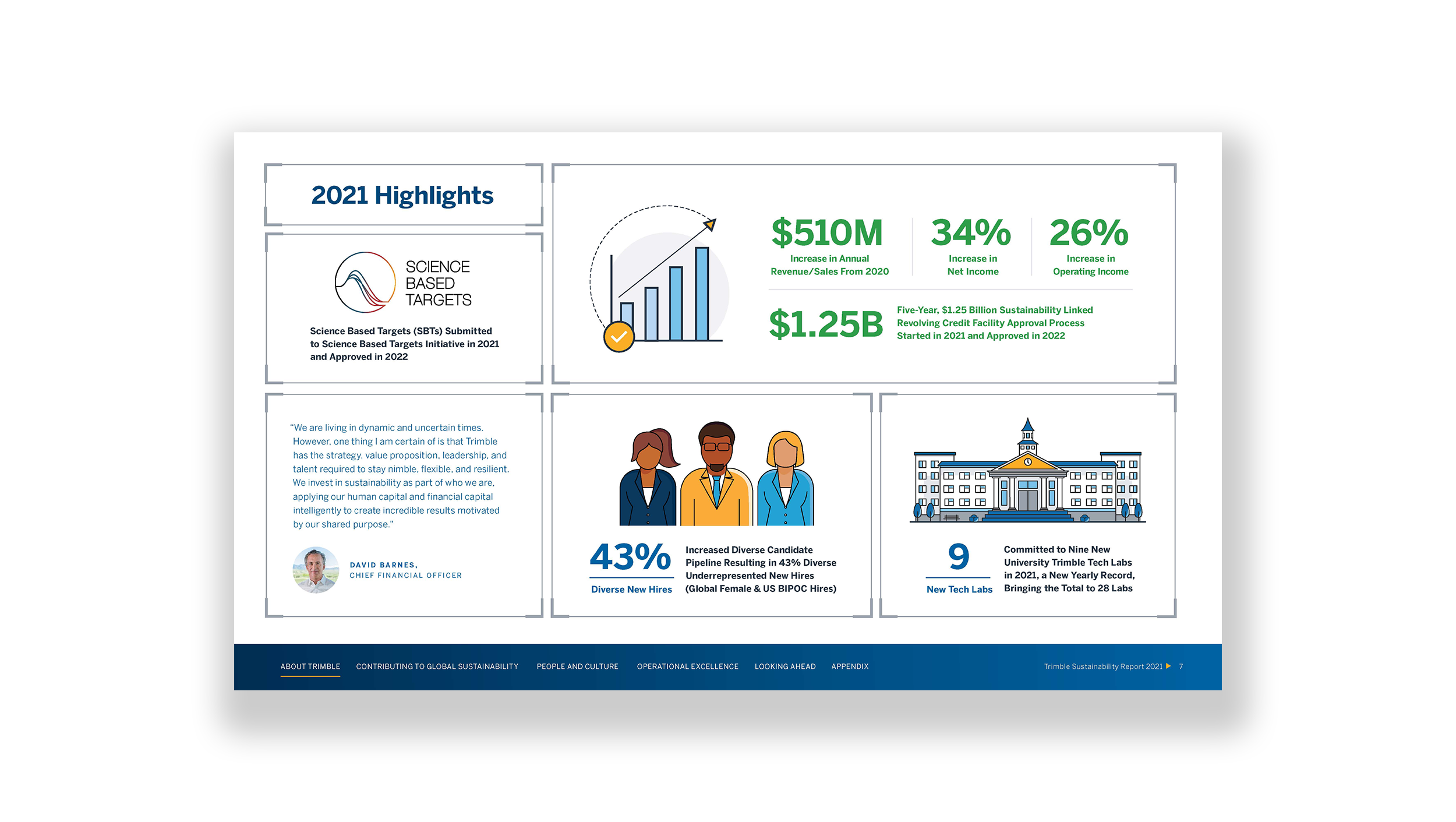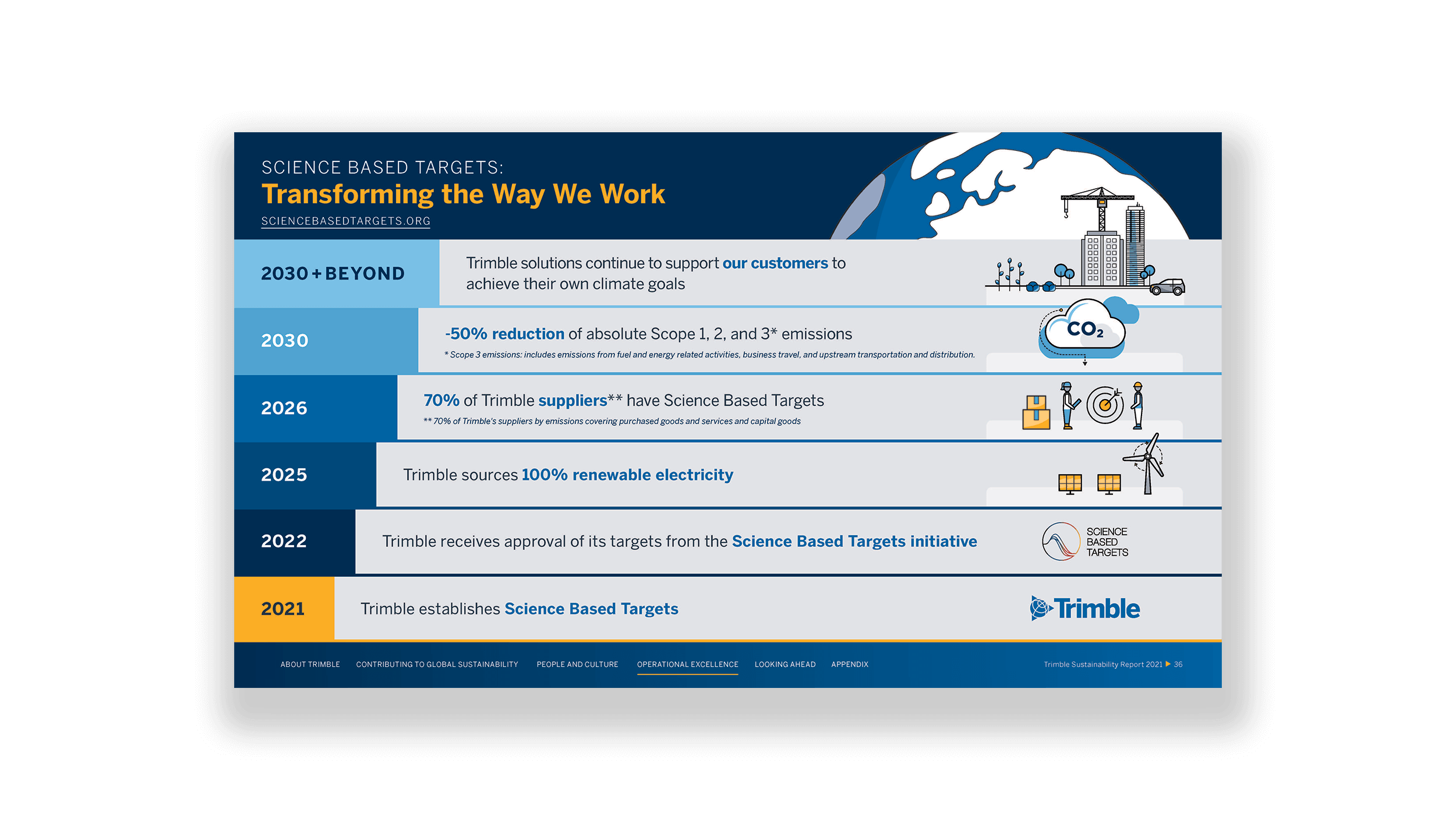 "People are Trimble's most treasured asset, powering our adaptability, innovative thinking, and long-term success. Every day, we have the privilege to work alongside extraordinary individuals. Our employees deserve every opportunity to achieve their full potential. We share a responsibility to create a culture where Trimble employees can be the best version of themselves and feel they belong to and are part of something bigger than themselves. We believe in a culture where people feel respected, valued, and celebrated for who they are and what they contribute to the company as a whole."
— Jaime Nielson, Chief People Officer